Northwestern Argentina Private tour
This program in the North of Argentina is for those who want to discover its culture and its beautiful landscapes in private service. From the yungas to the high mountains. From red to the purest white of the Salinas Grandes. A journey full of authentic contact with nature and native communities.
Price per person, on a double basis, in US dollars
Vacation Style Holiday Type

Activity Level
Day 1

Arrival to Tucumán

Welcome to Northwestern Argentina! You will arrive in Tucuman, the capital city of the Province which has the same name. Meeting with the guide to begin the itinerary. 

This modern city is decisive in national history: it is here that on July 9th, 1816 was signed the Independence Act. Lively and enthusiastic, do not miss a visit to Plaza Independencia, where the Cathedral and its many palm trees are located, or even La Casa histórica de la Independencia.

Then you will drive in a private vehicle to Tafi del Valle, a beautiful and peaceful town in the middle of the hills. On the way, you can stop and explore the Quebrada de los Sosa.

In the afternoon, departure to Amaicha del Valle. A local guide will meet you and you will begin an easy hike to Castillos del Dentro, a beautiful canyon.

You will spend the night at Tafí del Valle.

San Miguel de Tucumán – Tafí del Valle: 110 km

Private service, with English speaking guide. 

Day 2

On the road to Cafayate

In the morning, you get back on the road to Amaicha del Valle. Then, you continue towards the Quilmes ruins, one of the most famous archaeological sites in Argentina. 

Tafí del Valle – Amaicha: 55 km

Arrival to Cafayate, where you will spend the night. In the afternoon, departure to visit the Quebrada de las Conchas, along route 68. You will be able to appreciate the beauty of spectacular red rock formations carved by erosion and winds, such as the Devil's Throat, El Anfiteatro, El Sapo, El Fraile, El Obelisco and Los Castillos.

Private service, with English speaking guide. 

Day 3

Route 40 and Calchaquíes Valley

You will take route 40 for 160 kilometers of sumptuous landscapes between Cafayate and Cachi. You will cross the Quebrada de las Flechas, a formation of intense mountains and sharp rocks springing from the earth.

The dusty track continues and serves a few villages like Seclantás or Molinos, one of the nicest villages in the region. The surroundings seem deserted and forgotten for years, but they have nevertheless constituted an important trade route with the Inca empire.

You will arrive in Cachi at the end of the day. You can discover this splendid small town of colonial inheritance on your own. There is a peaceful atmosphere perfect for walking. In the central square, do not miss the church whose roof is built of candelabra cactus wood.

Private service, with English speaking guide.

Day 4

From Cachi to Salta and Cardones National Park

Early departure to Salta along Highway 33. You will enjoy many points of view of the spectacular Lerma Valley, the Quebrada de Escoipe, and the Enchanted Valley. You will cross Los Cardones National Park, passing by the so-called "Inca Trail", the Recta Tin Tin, a name given to a perfectly straight section of road 33, which runs for 18 km through the cactus of the Los Cardones National Park. The construction of this route dates from the apogee of the Inca Empire between 1480 and 1535 and was part of the Inca Trail that ran along the Andes from Ecuador to Argentina. You will probably see lamas next to the route. 

Salta – Cachi: 162km.

Private service, with English speaking guide.

Day 5

Salinas grandes and colorful landscapes

Early departure to San Antonio de los Cobres, crossing the Quebrada del Toro. Once there, you can see the departure of the famous Train to the Clouds. Then, you will continue towards the Salinas Grandes, a huge salt desert located at 4100 meters above sea level, right on the border between the provinces of Salta and Jujuy.

Afterward, you will travel along the Cuesta del Lipán until you reach Purmamarca, a town located at the foot of the Cerro de 7 Colores.

Private service, with English speaking guide. 

In the evening, you set off on foot to reach Teresa's house, located 300 meters from the main square of Purmamarca. You will be warmly greeted by your host upon arrival. Teresa will teach you to cook typical dishes of the region, with local products: quinoa, llama meat, corn, Andean potatoes, etc. You will then share dinner while tasting your preparations! Duration: 2h to 3h

The diner is included

You will spend the night in Purmamarca.

Day 6

Discover the Quebrada de Humahuaca & local community of Ocumazo

Set off along the Quebrada de Humahuaca and its small villages, this spectacular UNESCO World Heritage Site. You will discover the curiosities and colorful markets of each small village, including those of Humahuaca and Tilcara, where you will also visit the Pucará (archaeological site). 

You will then discover the famous Hornocal, the 14-colored mountain. 

Afterward, you will meet the rural community of Ocumazo, which inhabits the Quebrada de Humahuaca preserving the customs and traditions for several generations. A local family will welcome you to have lunch. 

After getting to know the traditions of this community, your guide will take you to San Salvador de Jujuy or Salta airport. 

Private service, with English speaking guide. 

End of our services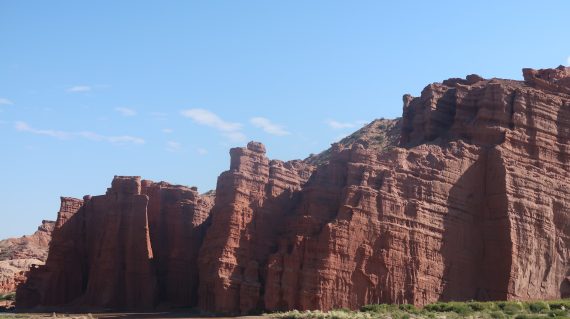 All about the Northwestern Argentina Private tour.
Travel dates: All year long (December to July rain season) 
Blackout dates: none
Departures every day (subject to availability) 
Minimum 2 passengers (Extra cost applies for solo travelers)
Topic: Local culture – Nature – Gastronomy.
Duration: 06 days / 05 nights.
Difficulty: Easy / Medium
Public: Young / Adult Couples – Families – Friends
Recommendations: Sunscreen, hat, comfortable shoes and clothing, reusable water bottle, sunglasses, and mosquito repellent.
The tour package inclusions and exclusions at a glance
What is included in this tour?
Items that are included in the cost of tour price.
5 nights accommodation in a double room.

Private service: vehicular transportation with English speaking guide-driver

Breakfasts included in all hotels

Meals when mentioned 

Trekking Castillos del Dentro Castles in Amaicha
Entrance to Quilmes Ruins
Excursions and transfers in private with an English-speaking guide mentioned in the itinerary.
What is not included in this tour?
Items that are not included in the cost of tour price.
Meals (except when mentioned) and additional personal expenses

Air transport (national and international), optional.

Excursions indicated as optional

Travel Insurance / Medical Assistance
You can send your inquiry via the form below.