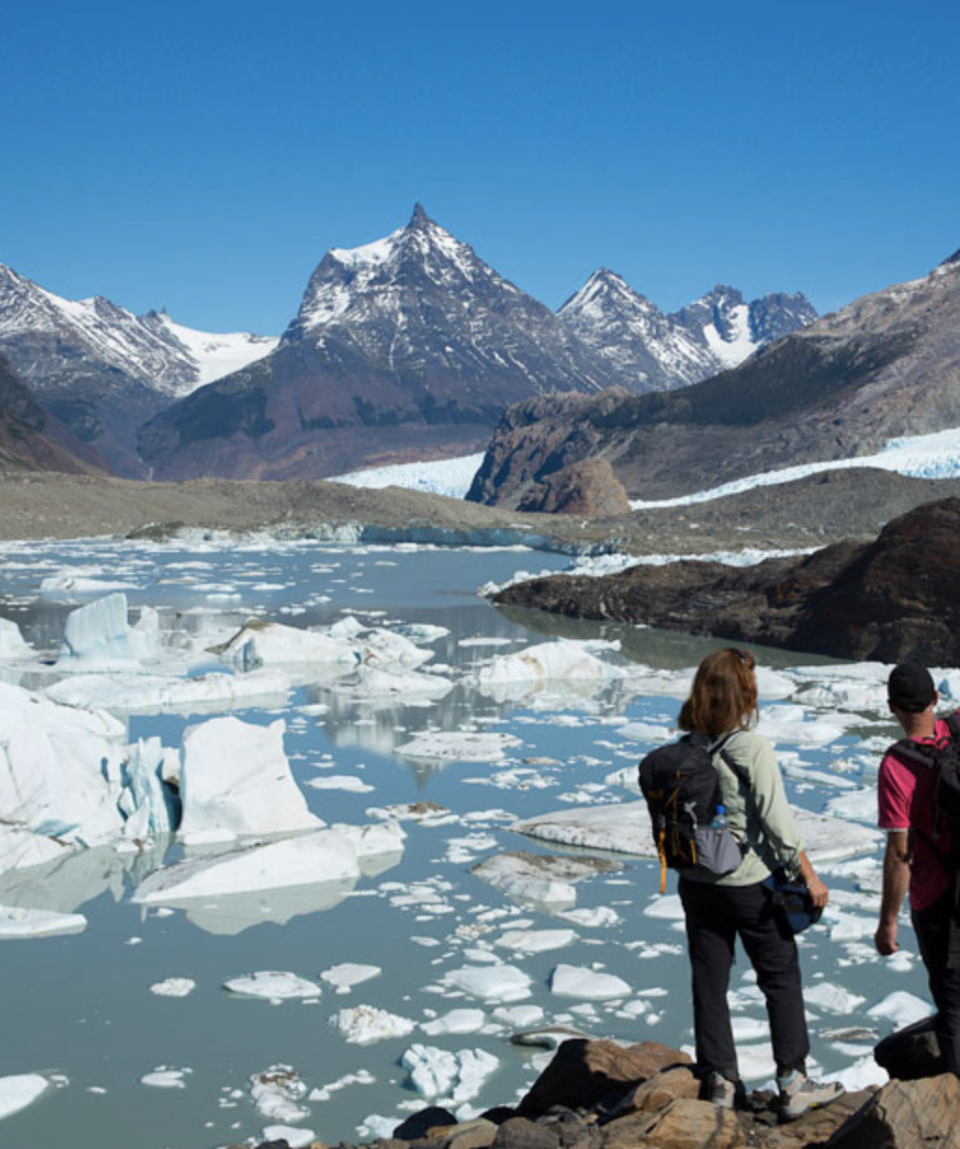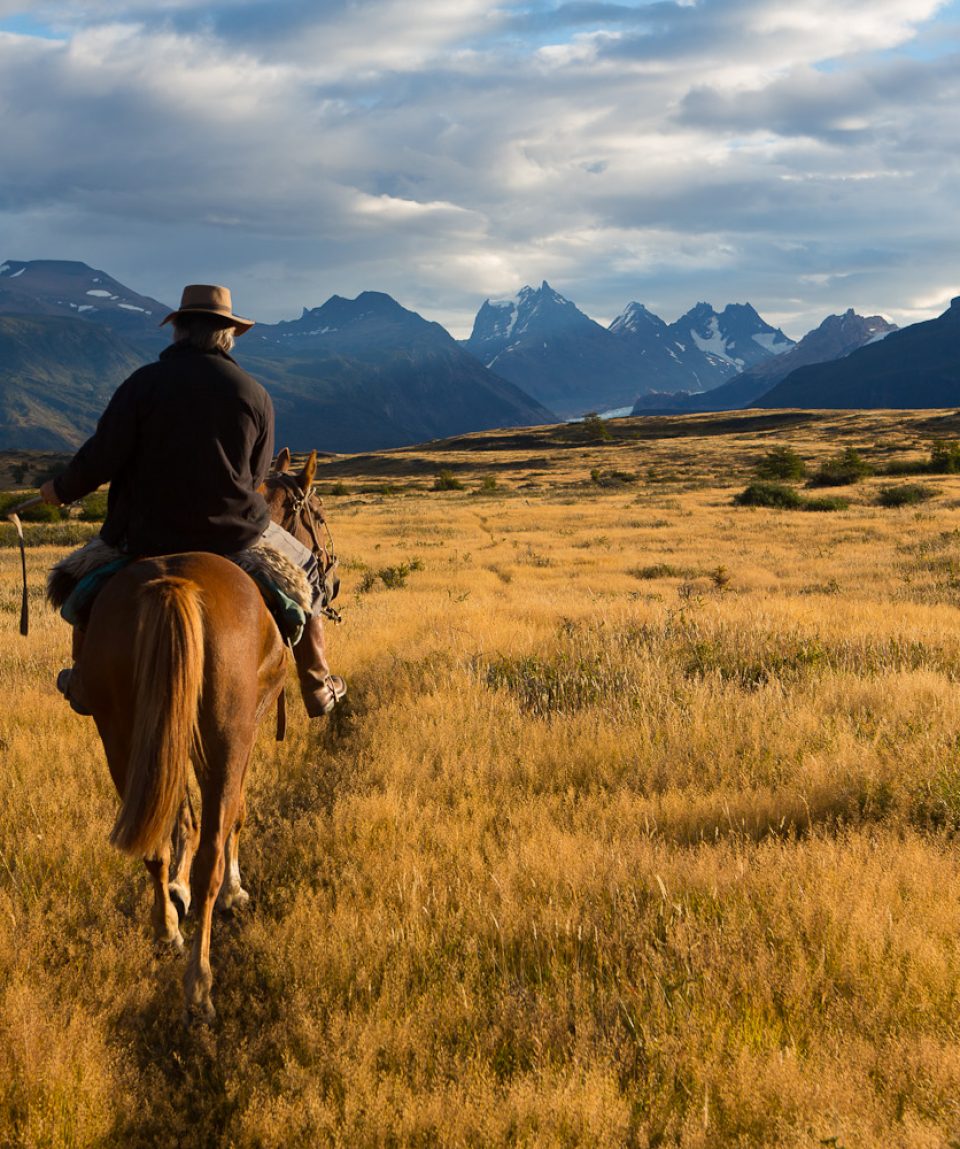 Patagonia Family Vacation 2 weeks
The this 2 week Patagonia Family Vacation has been specially designed to travel to Argentina with children. On this tour you will get to know Buenos Aires first and an open-air getaway to Delta Island, just 1 hour away from the city. The trip continues towards the mountains, trails and snow-capped peaks of the Southern Patagonia. You'll visit El Calafate and its mountains, glaciers and lakes in Los Glaciares National Park. You will rent a car to drive through the Patagonian steppes from El Calafate to El Chaltén, and take the route to the Atlantic Patagonia (from Trelew to Península Valdés).
Duration: 13 nights
Prices are in US dollars per person (including two adults and two children in a quadruple room).
Vacation Style Holiday Type

Activity Level
Day 1: Welcome to Argentina

Arrival in Buenos Aires and transfer to the hotel (Palermo)

Upon arrival at Buenos Aires, you will be transferred to an apartment in the neighborhood of Palermo. Your local guide will welcome you and provide you with suggestions to make the most of the neighborhood and the local cuisine with your family.

You'll have a free afternoon to explore Palermo and surroundings.

Recommendation: In the afternoon we suggest visiting: Bosques de Palermo – Japanese Garden – Botanical Garden – National Museum of Fine Arts – Museum of Decorative Art – Museum of Latin American Art of Buenos Aires (MALBA) – Recoleta Cultural Center – Recoleta Cemetery.

Day 2: Buenos Aires City Tour + Family Dinner with cooking class

Visit to the historic center and South Neighborhoods (La Boca)

Today your guide will take you to discover the hidden treasures of the city, passing through historic places such as Plaza de Mayo and the Cabildo, until you reach the neighborhood of La Boca and its famous Caminito street, a true journey into the past where you can appreciate the old houses built by immigrants.
After walking through the city, you will have the opportunity to experience the local cuisine. You will be welcomed at a family home and learn how to cook typical foods: empanadas and asado (Argentinian barbecue).

Day 3: Full day in Delta Island

Outdoor activities

You'll be picked up at the hotel and transferred on a private car to Tigre City (1 hour approx.) You will take a boat for an hour towards the Delta Island, where you'll reach a ranch where you'll be able to enjoy outdoor activities for the whole family: canoeing and kayaking on the river, biking and hiking to discover the natural assets or resting in Paraguayan hammocks while tasting "mate" (traditional Argentine infusion based on yerba mate). In the evening, you will have a typical local dinner and spend the night in the ranch.

Day 4: Field day in Delta Island

Outdoor activities and return to Palermo

You'll have an early start to watch the sun rise over the river. This will be another day full of activities to enjoy as a family: swimming, paddling on the river, horseback riding or zip lining are some of the possibilities. In the afternoon, you will return by boat to the Puerto de Tigre to return to the hotel in Palermo.

Day 5: Welcome to Patagonia

Flight to El Calafate and travel by car to El Chaltén

You'll be transferred to the airport to take your flight to El Calafate. Upon arrival, you will pick up a rental car head towards El Chaltén. After a 3 hour drive you will arrive at the town, where you will spend the night in cozy a cottage.  

Day 6: Welcome to El Chaltén

Free day to explore the city of trekking

You'll wake up between mountains and snowy peaks in El Chaltén. There are many walks or treks to be done in this city.

You'll have a free day to explore the area as a family.

Recommendations: Some simple, shot and beautiful walks are: Chorrillo del Salto (1 hs) – Mirador del Torre (3 hs) – Laguna Capri – (4 hs).

Day 7: Free day in El Chaltén

Return to El Calafate

You will have another day off for trekking and contemplating the landscapes of the area. At the end of the day, you will return to El Calafate to continue the journey to the glacier region.

Recommendations: Laguna Torre (walk from 8 a.m. to 9 p.m.) along with Laguna de los Tres (walk from 9 a.m. to 10 p.m.). This is one of the most classic activities in the area.

Day 8: Visit a local Estancia + Navigation to the Perito Moreno Glacier

Navigation of Argentino Lake

You'll have an early start today for a drive across the old estancias road on a small-group excursion. The guide will explain everything about the rural life of the Patagonian farms and the indigenous influence. Then, you will arrive at the Estancia and enjoy a typical barbecue with the best wines in the country (included).
After lunch, you'll navigate the South and Rico arms of Lake Argentino and disembark at Las Monedas beach for a walk in the woods (low difficulty level). After sailing again you will reach the Perito Moreno Glacier. It is an enormous ice mass covering a 250 square km area and one of the most wonderful glaciers in the world.
It is easy to approach the front of the glacier by walking along the footbridges (free time, around 2 hours)
You'll return to El Calafate in the evening by minibus.

Day 9: Welcome to Península de Valdés

From the glaciers to the kingdom of the whales

In Calafate Airport you will take a flight to Trelew. At the airport you will rent a car to travel to Puerto Madryn and Peninsula Valdés.

Day 10: Welcome to Punta Tombo

The paradise of the penguins

You'll have a free day to visit Punta Tombo, the largest colony of magellanic penguins in Latin America. This reserve is home to almost 150,000 penguins, who come to incubate their eggs between September and April.

You will be able to carry out an optional activity closer to marine animals, where you can go kayaking to watch the sea lions up close, and you'll accompany them on their journey through the sea.

Day 11: Welcome to Puerto Pirámides

On the road of the guanacos

With your rental car you will have the opportunity to discover the terrestrial fauna of the peninsula: guanacos, ñandus, and the Darwin maras, better known as Patagonian hares, and the marine fauna: sea lions and elephants.

Day 12: Welcome to Puerto Pirámides

The kingdom of the whales

Finally, it's time to meet the famous southern right whales, which will be in the Valdés Peninsula from July to December. You will have the opportunity to see them from the beach, and then you will get on a boat to get to see these marine giants up close.

Day 13: Return to Buenos Aires

Flight to Buenos Aires and free night

You will return the rental car and go to Trelew airport, where you will take a flight to Buenos Aires. Upon arrival, you will be transferred to your hotel in Palermo.
You'll have the rest of the day off to enjoy the last day in the city with your family.

Day 14: End of the trip

Airport transfer

Last hours in Buenos Aires! You'll be transferred to the international airport according to your flight schedule.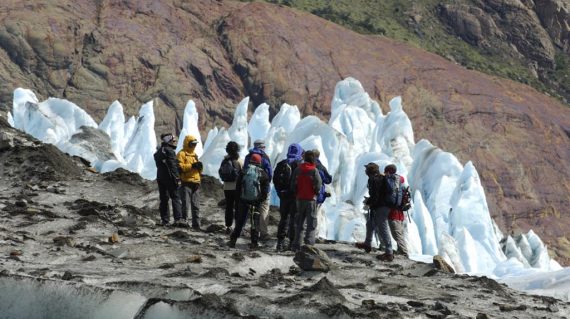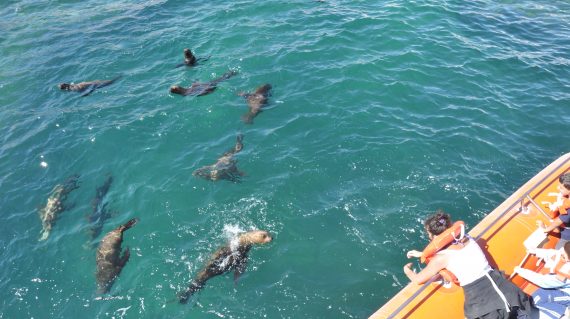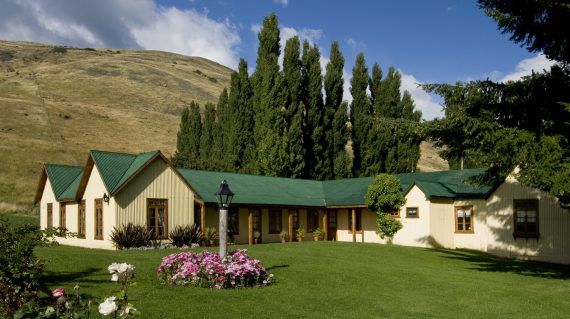 All about the Patagonia Family Vacation 2 weeks.
This tour is ideal to enjoy a family vacation in Argentina, it begins in Buenos Aires, you will make a tour of the historic center of the city and the Southern neighborhoods (La Boca). You will enjoy a gastronomic experience with a local family, they will learn to cook and taste typical argentinean foods: empanadas and barbacoa. You will enjoy outdoor activities in a ranch on Delta Island.
This 2 week route through Argentina continues with a flight to El Calafate. Once there, they will rent a car, after driving three hours through the Patagonian steppes you will arrive in El Chaltén, the city of trekking and most beautiful, for its landscapes with mountains, lakes, rivers and forests.
Returning from the Patagonian steppes, you will return to El Calafate, home of the famous Perito Moreno Glacier. This tour includes half a day of field in a typical ranch with demonstration of rural activities and enjoy a barbecue and navigate the Lake Argentino to appreciate the giant blocks of ice.
From the glaciers will go towards the Northeast Patagonia. Once in Trelew, you will rent a car to travel to the rhythm of your family the route, the landscapes, the flora and fauna of the Valdés Peninsula. Magellanic penguins in Punta Tombo and the famous southern right whale in Puerto Pirámides. In watching season, you will see them from the coast and you can embark to see them up close.
This family trip will end in Buenos Aires, you will be transferred to your apartment in Palermo and will have the last free night.
The tour package inclusions and exclusions at a glance
What is included in this tour?
Items that are included in the cost of tour price.
13 nights in a quadruple room (for two adults and two children).
Breakfast in all accommodations.
Meals when "included" are mentioned.
Transfers to the airport (private service when mentioned).
Guided tours and mentioned excursions, with guide in English / Spanish when not specified.
Entrances to the National Parks.
What is not included in this tour?
Items that are not included in the cost of tour price.
Air transport (optional).
Excursions indicated as "optional".
Meals and personal extras not mentioned.
Local hotels, family homes and unique properties
At Mater we know that accommodation is much more than a place to sleep. It is an opportunity to experience the local culture. Because of this, our itineraries are designed to stay in local hotels and, whenever possible, have an experience in the family home. The published price is in standard hotels, but we have options in superior and luxury category hotels. We work with inns, rooms, and charming hotels.
At Mater we always search for alternative activities to those usually chosen by large groups of tourists so that you can have more intimate and authentic experiences, without missing out on the most emblematic places in Argentina.
This tour includes small-group excursions so that you can get a better experience. You'll visit Buenos Aires and the Tigre Delta, and also tour the most amazing destinations in Patagonia: Península Valdés, El Calafate and the so called national trekking capital, El Chaltén, along with local guides that specialize in nature. You'll visit off-the-beaten-path places, where you'll have authentic encounters with local communities.
On top of our general sustainability policies (see here), there are some specific sustainable actions we take in this particular tour.
In Buenos Aires you'll get to know all the city secrets, along with a local guide with vast knowledge on the capital's history and culture. You'll also visit the Tigre Delta, where you'll enjoy a country day, do outdoor activities and learn about the lifestyle of people who inhabit the island.
In El Chaltén you'll have time to explore the area by yourself, trekking at your own pace and appreciating the amazing views, using the self-guided signaled paths.
One of the main characteristics of sustainable tourism is the direct and genuine bond created with locals, generating a reciprocal cultural enrichment. In El Calafate you'll visit an estancia that still works as such (not only for touristic purposes)and learn about the different activities they do, such as sheep shearing. This generates an atmosphere of cultural exchange and authentic learning about the Patagonic pioneer's traditions, agriculture and cattle raising. You'll reach the perito Moreno glacier though an unconventional navigation, helping prevent overtourism. By doing this you'll also get a unique perspective, making the navigation an experience itself. 
In Puerto Madryn you'll participate in a natural spectacle: whale watching. You'll visit the heart of Península Valdés,a natural reserve where you can contemplate the region's natural richness and respectfully observe representative local fauna, such as sea lions. Moreover, you'll go to Punta Tombo and see a big group of beautiful Magellanic penguins.
Buenos Aires – Tigre Delta: 2h boat ride
Buenos Aires – El Calafate: 3h flight
El Calafate – El Chaltén: 3hs on route
El Chaltén – El Calafate Airport: 3hs on route
El Calafate – Trelew: 2h flight (if it's direct)
Trelew Airport – Puerto Madryn: 0.45hs on route 
Trelew – Buenos Aires: 2h flight
The weather in Patagonia changes constantly, so there can be a lot of wind and and low temperatures even during the summer. Yet, the fauna calendar must be taken into account when choosing a date to travel, given that not all animals are in the area all year round. We suggest that you take this trip between October and March, given that the best season to visit Península Valdés starts in July but for all the other destinations this is still a very cold and windy season.
In Puerto Madryn and its surrounding weather is influenced by their closeness to the sea, with an average annual temperature of 13.4ºC (56ºF), but with warm summers where the temperature may reach 30ºC (86ºF).
In El Calafate and El Chaltén the average annual temperature is 7.5ºC (45.5ºF). January is the warmest month and the temperature during the day is about 15ºC (59ºF).
There are daily direct flights between Buenos Aires and Trelew, and between Buenos Aires and El Calafate. Between El Calafate and Trelew direct flight availability varies according to the season, you can usually find them during the summer months.
All cities visited are safe but, in the most touristic places such as the Perito Moreno sidewalks, we suggest that you pay attention to your personal belongings. Puerto Madryn and El Chaltén are both small cities where you can travel unconcerned.
In Patagonia, each region has its own specialties. In Península Valdés you can try great seafood. In El Calafate you cannot miss the Patagonian lamb and the "frutos del bosque", a variety of berries such as cassis, blackberries, rosa mosqueta or teh calafate! You can find these in desserts, spirits or marmalades.
You can send your inquiry via the form below.